[Melbourne] Sneaker Swap
No Comments
Written by
Camilla Bromann
on April 24, 2009 – 1:03 am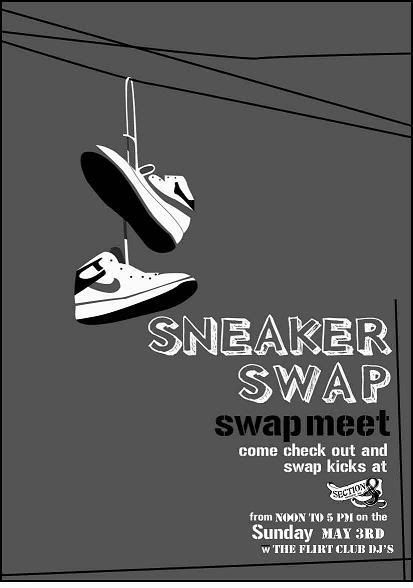 Shiaaat daaawg! I can't fit any more kicks into my room…Gotta throw something out now (only wankers need heaters yo) cuz new, maybe not fresh, freaking game on sneakers are on their way! I welcome them all, oh mighty bright lights of my life! SNEAKER SWAP!! Yay!
Once again Section 8 has made my day, another Sneaker Swap is on its way and I am probably going to be there before it even starts. I mean, this is a pretty sweet opportunity to use that uber expensive $90 sleeping-bag I bought for Meredith one more time. Ha! Yes I know you thought I spewed and peed in it and had to buy a new one from Big W! But NO! It survived! I screwed you this time huh! ahahahaaaaaaa…
…Soooooooo anyway, ahmm, I could easily see myself camping outside Section 8 for a couple of hours before they open up the gates to sneaker heaven! Cuz new ones, old ones, limited ones, yeah every kind's gunna be there! Kicks baby, kicks!
And this time I shall not fear that there is no one to bring home with me, because all sizes are  represented at the swap-swap/buy-sell market. And once again, that is why I'm bringing my camping gear cuz I just happen to know I ain't the only lady in da hood with 7s!
Besides crazy sneaker heads, heaps of ol' skool trainers and flashy kicks, there will also be wicked tunes provided by The Flirt Club and sizzling snacks for a couple of gold coins–and beers of course! And did I mention sneakers?
Jump up, drop down and move it all around and remember to bring your old kicks–maybe, by magic, they will transform into the sweetest pair you have had in ages!
What: Section 8's Sneaker Swap! Kapooow!
When: Sunday 3 May  12pm–5pm
Where: Section 8, 29 Tattersalls Lane, Melbourne
If you enjoyed the article, why not
subscribe
?
Browse Timeline